This article presents a morpho­lo­gi­cal analysis of 3500 Persian derived nouns (i.e. the Farsi language) combined with their semantic inter­pre­ta­ti­on. These nouns are documen­ted in the computer system FarsNet offering a compu­ta­tio­nal codifi­ca­ti­on (so called wordnets) that specifies morpho­lo­gi­cal relations between classes of derived nouns and their bases. A compre­hen­si­ve and detailed descrip­ti­on of the relevant lingu­i­stic levels is a prere­qui­si­te for achieving progress in natural language proces­sing (NLP).
WordNets are lexical ontologies relying on semantic and morpho­lo­gi­cal descrip­ti­ons and formu­la­ti­ons (an example is provided in Figure 1). FarsNet has been estab­lished in 2009 by the NLP research lab of the Shahid Beheshti University in Teheran and its design princi­ples follow those of other compa­ra­ble resources such as Princeton WordNet, EuroWordNet and BalkaNet (Shamsfard et al. 2010; those who are familiar with Farsi are referred to the FarsNet page). Besides semantic relations (synonymy, hypernymy, hyponymy, meronymy and antonymy) and morpho­lo­gi­cal relations (deriva­ti­on), some additio­nal concep­tu­al relations such as domain and related to, have been devised in FarsNet. An example is provided with Figure 1 showing the semantic net of the word "shir", which is a polysemic noun with the meanings 'lion', 'Leo' (constel­la­ti­on), 'powdered milk', 'brave', 'faucet', 'plant sap', 'obverse', 'mother's milk', 'milk' all of them with indivi­du­al semantic relations. Currently (2021), FarsNet has more than one hundred thousand entries, organized in almost nine thousand synsets. A synset (or synonym set) is defined as a set of one or more synonyms that are inter­ch­an­geable in some context without changing the truth value of the propo­si­ti­on in which they are embedded (Shamsfard et al.2010).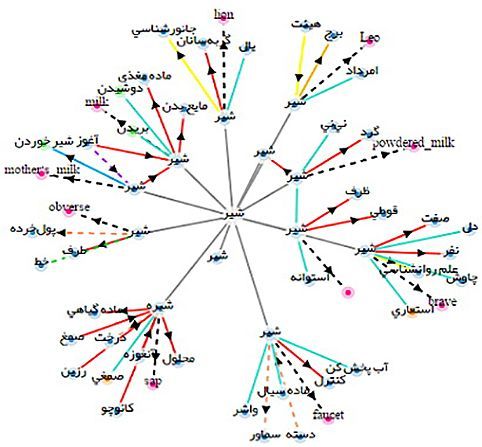 In my own work, the morpho­lo­gi­cal and semantic relations are conside­red at the word level (and not at the synset) in order to achieve a cross-linguistic validity even if the morpho­lo­gi­cal aspect of the relation is not the same in the studied languages. In order to provide an overall view at the data, it has been classi­fied into sixteen semantic groups based on general base concepts and some subgroups which have been defined for each section and word. Semantic catego­ries (beginner) have been analyzed in a corpus based on Princeton WordNet (PWN) standards (for the semantic catego­ries following the PWN standard see Table 1). After the calcu­la­ti­on of their frequency, they have been classi­fied into more nine categories.
| | | | | |
| --- | --- | --- | --- | --- |
| 1. act | 6. cognition | 11. location | 16. plant | 21. shape |
| 2. animal | 7. commu­ni­ca­ti­on | 12. motive | 17. posses­si­on | 22. state |
| 3. artifact | 8. event | 13. object | 18. process | 23. substance |
| 4. attribute | 9. feeling | 14. person | 19. quantity | 24. time |
| 5. boda | 10. group | 15. pheno­me­non | 20. relation | 25. food |
Table 1: Semantic catego­ries (noun beginners) based on PWN standards
FarsNet Word Entries
Every word entry of the parti­cu­lar word net include a phono­lo­gi­cal transcrip­ti­on together with infor­ma­ti­on on the parts of speech (PoS), synonyms and their synset classi­fi­ca­ti­ons, word meaning and an example. A beginner will be selected for each lexeme. According to Miller et al. (1990) a beginner is a primitive semantic component of any word in its hierar­chi­cal­ly struc­tu­red semantic field. Beginners could be used in the recogni­ti­on of the domain of a synset. Different syntactic types can be related to each other by mapping each entry to its corre­spon­ding concept in Princeton WordNet (Shamsfard et al., 2010). The synsets which do not fall into any of the above catego­ries will get the label nothing (an editor app was formu­la­ted in the NlP labora­to­ry, which is shown in Figure 2).
The semantic relations are also estab­lished among the synsets with the same PoS. Synsets with different PoS will get labels such as related to. There are three possible choices for mapping a synset to the corre­spon­ding one in Princeton WordNet: equiva­lence mapping, near-equivalence mapping and no-mapping. Finally, the morpho­lo­gi­cal relations among senses, such as deriva­tio­nal relations, are marked.
Besides speci­fy­ing a noun type (such as common, proper, countable, uncoun­ta­ble, pronoun, number or infini­ti­ve), a classi­fi­ca­ti­on on the basis of some more general semantic features (such as belonging to human, animal, location or time) is provided.
According to Deléger et al. (2009), a morpho-semantic process decom­po­ses derived words, compounds and complex words into their base compon­ents and associa­tes them to their semantic charac­te­ristics. Derived words and compounds are analysed morpho­lo­gi­cal­ly; relations between base and deriva­tio­nal form are inter­pre­ted seman­ti­cal­ly (Namer & Baud 2007). The term "morpho­seman­tic" was suggested by Raffaelli & Kerovec (2008) for any work dealing with the relation between form and meaning at the word level.
The resulting morpho­seman­tic formu­la­ti­ons notably increase the lingu­i­stic and operative compe­tence and perfor­mance of FarsNet. This is conside­red to be an achie­ve­ment in the codifi­ca­ti­on of the Persian descrip­ti­ve morpho­lo­gy. The compon­ents of the semantic network of nouns can be further obtained by identi­fy­ing basic concepts of semantic fields and new classi­fi­ca­ti­ons of semantic catego­ries. However, identi­fy­ing the lexical gaps between Persian and other languages (e.g. English) can also be helpful in mapping further sections of a wordnet. A practical benefit of such wordnets is that they facili­ta­te human-machine inter­ac­tion. From a lingu­i­stic perspec­ti­ve, they offer new possi­bi­li­ties for semantic analysis.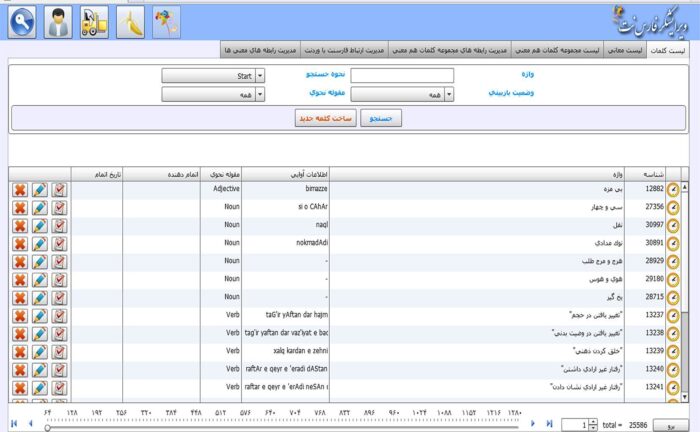 Data Analysis
An example of analysis is provided by the noun corpus of FarsNet (= 22180 nouns). First of all, the list of derived nouns (= 2756 items) was prepared. Then they were split into their roots and affixes. From the 26 available suffixes, the 12 most frequent ones were selected (= 2461 deriva­ti­ves). Not surpri­sin­gly, their morpho­lo­gi­cal descrip­ti­ons corre­spond to Keshani's (1992) descrip­ti­on of Persian suffixes (an example is provided by Table 2).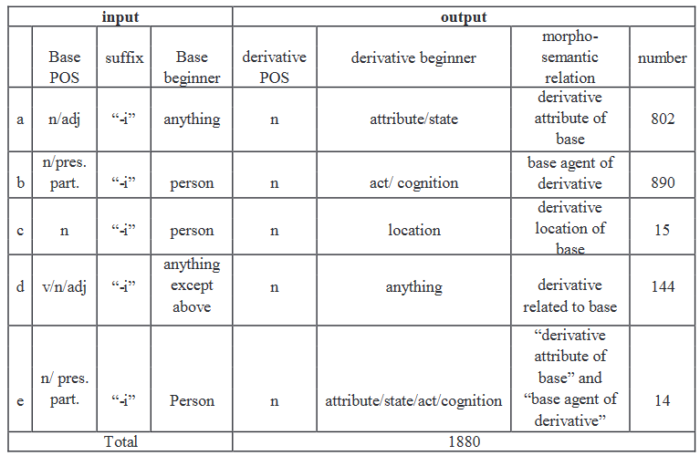 A morpho­lo­gi­cal analysis of a selection of derived nouns according to semantic catego­ries in FarsNet showed that only 2 words out of 3500 (0.08%) did not fall into the patterns. Thus, it could be concluded that the patterns have successful­ly provided the founda­ti­ons for estab­li­shing automatic relations between derived or complex nouns and their bases in FarsNet. The conside­ra­ti­on of the words' morpho­lo­gi­cal features such as their PoS, their semantic and gramma­ti­cal category (e.g. agent noun, parti­ci­ple noun, present parti­ci­ple, etc.) as well as recogni­zing the beginners of the bases (e.g. act, person, food, etc.) and their change after the affix­a­ti­on process have been the key criteria in formu­la­ting the relations which were especi­al­ly crucial for the majority of studied suffixes that were polyse­mous. Defining and codifying these morpho­lo­gi­cal patterns lead to a coherent estab­lish­ment of morpho­lo­gi­cal relations. Hence, this offers a remar­kab­le perspec­ti­ve for the appli­ca­bi­li­ty of the data base in machine trans­la­ti­on, question answering systems, etc. Although the morpho­lo­gi­cal relations were conside­red at the word level, mapping the results to the relations formu­la­ted in the wordnets of other languages provides a cross-linguistic validity, even if the morpho­lo­gi­cal aspect of the relation is not the same in the two mapped languages.
In my PhD thesis at the Research Center Deutscher Sprach­at­las I am trans­fer­ring these methods to regional varieties of the German language. We expect this to yield new insights into the struc­tu­ring of the semantics of dialects.
References
Davari Ardakani, Negar and Mahdiyeh Arvin (2015): Persian. In N. Grandi and L. Kortve­ly­es­sy, editors. Edinburgh Handbook of Evalua­ti­ve Morpho­lo­gy. Edinburgh Univer­si­ty Press, Edinburgh, pages 287–295.
Deléger, Louise, Fiammetta Namer and Pierre Zweigenbaum (2009): Morpho­seman­tic Parsing of Medical Compound Words: Trans­fer­ring a French Analyzer to English. Inter­na­tio­nal Journal of Medical Infor­ma­tics, 78 (1): 48–55.
Farshid­vard, Khosrow (2007): Deriva­ti­on and Compoun­ding in Persian. Zavar press, Tehran.
Keshani, Khosrow (1992): Suffix Deriva­ti­on in Contem­po­ra­ry Persian. Iran Univer­si­ty Press, Tehran.
Miller, George A. et al. (1990): Intro­duc­tion to Wordnet. An online Lexical database, Journal of lexico­gra­phy, 3(4):235–244. doi: 10.1093/ijl/3.4.235
Raffaelli, Ida and Barbara Kerovec, 2008, Morpho­seman­tic fields in the Analysis of Croatian Vocabu­la­ry. Jezikos­lo­vlje, 9 (1–2): 141–169.
Shamsfard, Mehrnoush et al. (2010): Semi-Automatic Develo­p­men of Farsnet ; The Persian WordNet. 5th Global wordNet confe­rence (GWA8020).
Beitragsbild: Pete Linforth auf Pixabay
Diesen Beitrag zitieren als:
Mirsob­ha­ni, Shabnam. 2021. Doing Morpho­seman­tic Analyses in Farsi WordNets. Sprach­spu­ren: Berichte aus dem Deutschen Sprach­at­las 1(9). https://doi.org/10.57712/2021-09.